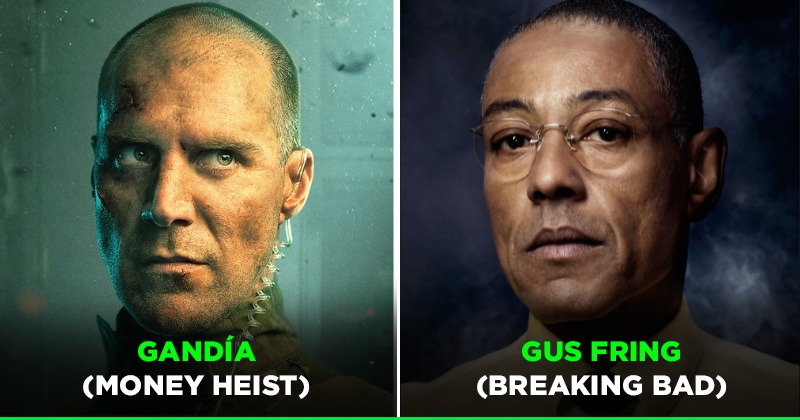 11 on-screen villains we hate so much that only proves these actors did a fantastic job
You fell in love with Ganesh Gaitonde even when it was a villainous role. You also fell in love with the thieves of Money theft even when they looted the banks. We also fell in love with Walter White from breaking Bad even after he became the hub of Heisenberg meth, and we loved Ranveer Singh's impeccable performance as Khilji in Padmaavat and Munna Tripathi from Divyendu Sharma in Mirzapur.
There are villains we fall strangely in love with, and then there are others whose deaths and downfall we celebrate. Here is a list of the most hated villains that only prove that these actors did a fantastic job.
1. Gus Fring in Breaking Bad (Giancarlo Esposito)
On several occasions, Gus Fring tried to act like a rational man, but he was just as bad as the Cartel or even more. He spoke with the utmost eloquence and poise as if he was a motivational speaker, but what he said was terrifying. For example, "If you try to intervene, it becomes much easier. I will kill your wife. I will kill your son. I will kill your little girl.
2. Ramsay Bolton in Game of Thrones (Iwan Rheon)
There were several others we hated in Game Of Thrones like Euron Greyjoy, Lysa Arryn, Joffrey Baratheon, but the one character everyone hated with equal intensity was Ramsay Bolton. He tortured, raped and killed people just for his own pleasure. He was so bad that people felt bad for Theon Greyjoy when he tortured him. How he treated Sansa remains controversial to this day.

3. Gandia in Money Heist (José Manuel Poga)
Arturo may be the most boring character on the show, but Gandia is the one people hate the most. The Bank of Spain's security chief is on the right side, but he's an antagonist in Money Heist. After all, he shot Nairobi without any hesitation. His taunts are harsh and he could kill in the blink of an eye. He often showed signs of a bad psychopath.
4. Bob Biswas in Kahaani (Saswata Chatterjee)
Played by Saswata Chatterjee, Bob Biswas is a psychopath. He's not a quintessential villain like Gabbar, Shakaal, or Mogambo who had mean laughs and evil expressions. He's an ordinary man with a belly who can disappear into a crowd. Yet it leaves an impact like no other.
5. Sunny in Mardaani 2 (Vishal Jethwa)
Killer rapist Sunny in Mardaani 2 sent shivers down people's spines. His powerful performance as the feared villain was also the TV actor's Bollywood debut. This earned him applause from critics as well as viewers.
6. Dheeraj Pandey in Murder 2 (Prashant Narayanan)
Prashant Narayanan gave the best performance of his career as Dheeraj Pandey in Murder 2. Dheeraj was a cross-dressing misogynist eunuch who called prostitutes and murdered them. He was a psychopathic serial killer who pretended to be a client, then tortured his victims to death.
7. Dresser in Gladiator (Joaquin Phoenix)
Even after so many years, it is difficult for us to dissociate Joaquin Phoenix from his role as Commodus. This is the impact he left on us all. While most of us hate him deeply for the role, we also agree that he deserved an Oscar for this wonderful performance.
8. Calvin Candie in Django Unchained (Leonardo DiCaprio)
Not just the fans, even Leonardo DiCaprio believes Calvin Candie is "one of the most deplorable, forgiving, and horrible characters" he has ever met. After all, he was pitting slaves against each other in fight to the death just so he could take advantage.
9. Warden Norton in Shawshank Redemption (Bob Gunton)
We saw a lot of corrupt prison guards, but Warden Samuel Norton was the worst. He was not only a hypocrite who preached the Bible to prisoners, but also used his position of power for his own financial gain. Not only that, he even killed to cover up his crimes.
10. Lajja Shankar Pandey in Sangharsh (Ashutosh Rana)
Ashutosh Rana's spooky portrayal of Lajja Shankar Pandey in Sangharsh terrified us all. Her role gave us nightmares when we were kids. His villainous character was no larger than life which seemed fictional, but he was close to a character we see in our day to day life.
11. Jageera at the gate of China (Mukesh Tiwari)
As a child, Jageera from China Gate gave us shivers. He would give human flesh to the vultures. Her filthy hair and makeup was scary too. Interestingly, he played comic book characters like Vasuli Bhai afterwards. He has indeed proven his talent as an actor.