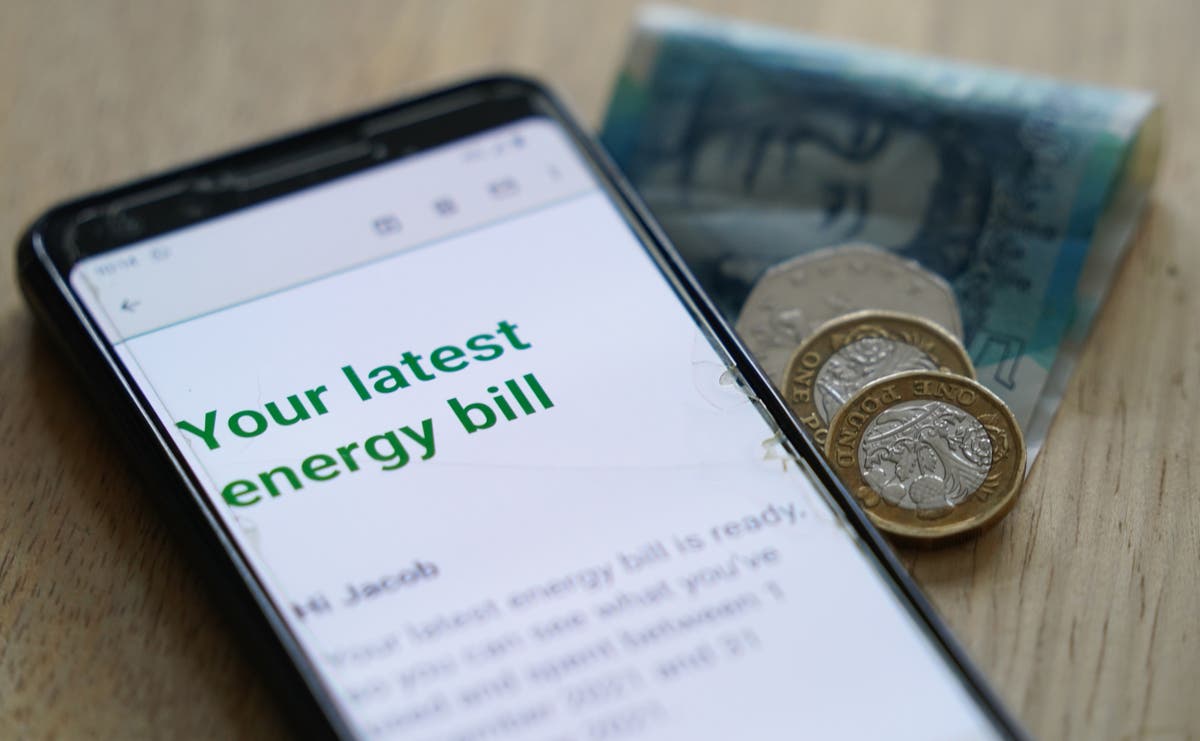 13m Britons set to go into debt as energy price cap rises
According to a new study, one in four people in the UK will be unable to pay their gas and electricity bills when the energy price cap rises in October.
Citizens Advice said 13million people across Britain would be in debt when annual energy bills were allowed to soar to £3,600 – double the number of people already in the red.
Charities pleaded with the government to increase emergency payments, as inflation hit a four-decade high of 10.1% on Wednesday and increased pressure on those struggling with bills and food prices.
Tory peer and Asda chairman Stuart Rose has accused Boris Johnson of going on 'shore leave' as Britain rushes into an inevitable recession – saying the government has been 'very, very slow' to deal with the cost of living crisis.
Warning of a 'winter of desperation', Citizens Advice said the number of people in debt for their fuel bills could rise to one in three (34%) in January when prices are set to soar above £4,200 .
"It is becoming increasingly clear that soaring prices will swallow up all the aid that has been announced so far," chief executive Dame Clare Moriarty said, calling for more support for the most vulnerable.
The head of the charity added: 'Every day that goes by without a plan is another day without comfort for people who desperately need it. We urgently need additional support or risk a winter of desperation for millions.
Cabinet Minister Kit Malthouse has denied government inaction during the cost of living crisis. "This idea that we're all sitting on our hands eating buns and picking our noses isn't true," he told Times Radio.
But he said it would be up to Boris Johnson's successor to decide what to do about rising bills. "We are putting the government on a war footing, if you will, so that a new prime minister just weeks away can now make quick decisions," he told the BBC.
Chancellor Nadhim Zahawi, a supporter of Truss, insisted the government was working "day and night" to prepare options for the next prime minister. But he slammed Labour's plan to freeze bills as it would reward "people like me who are at the richer end of the spectrum".
"My job, my responsibility, is to give her the options to be able to make that decision about how she targets help for the families that we know will need it as we get through the winter," said Zahawi – who said the options would include "additional support".
However, Tory management favorite Liz Truss has yet to pledge additional direct payments to help the public with huge energy bill hikes expected from October.
Rishi Sunak – who said he would commit around £5billion in additional payments – said it would be a "moral failing" not to offer more help. Speaking in Northern Ireland on Wednesday, Sunak promised he would target "the most vulnerable, and by that I mean two groups in particular – low-income families and pensioners".
The two Tory candidates, who are vying to succeed Johnson at No 10 on September 6, rejected a Labor Party proposal to freeze the cap on energy prices over the winter.
Labour's Home Secretary Yvette Cooper said the government had failed to "understand" the scale of the crisis. "We need urgent action…don't wait until it's too late for people to be pushed into debt, pushed into poverty," she told LBC on Wednesday.
Cooper said the prime minister was 'missing' – claiming he and his chancellor Nadhim Zahawi had 'done nothing'. She added: "They just disappeared. It is completely irresponsible for the Prime Minister and the Chancellor not to act. »
Government on 'war footing' over cost of living crisis, minister says
Johnson has been accused of treating his final weeks in office as "one big party" after visiting Greece for a week – his second holiday in a fortnight.
But Malthouse said Boris Johnson is "constantly updated on what's going on" while on vacation in Greece. "When he comes back from Greece, he will be informed of the work we have done," he said.
The 10.1% inflation figure – which showed the prices of food and non-alcoholic beverages rose 12.7% – represents the biggest increase in the cost of living since February 1982.
Rocio Concha, policy director at Which?, said the latest figures clearly show that "millions of people will face dire financial circumstances in the months to come… it is clear that the current level of government assistance to the cost of living will not be enough". .
The Resolution Foundation said the poorest tenth of households would be hardest hit, facing an inflation rate of 10.9%, while the wealthiest tenth faced inflation of just 9.4%. The think tank said the Prime Minister's next priority should be "targeted support for low and middle income households".
Reacting to the latest inflation figures, union leaders said the cost of living crisis had become a "living nightmare" for workers.
TUC general secretary Frances O'Grady has called for a price cap freeze and the renationalisation of energy companies to deal with "the emergency". Unison deputy general secretary Jon Richards said wage increases above inflation "are essential to saving families from the brink".
Citizens' advice centers have been inundated with requests for help in recent months, with advisers saying families have been forced to make 'heartbreaking' choices between eating or heating their homes.
Food bank managers also said The Independent some people could not afford to recharge their prepaid meters – going without gas and electricity for several days.