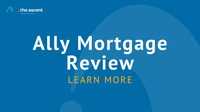 Ally Mortgage Review | Ascension
Best benefits
Quickly find the right loan: You will get a personalized quote after answering a few simple questions and a pre-approval letter to include with your home offer after just three minutes. Ally provides a table showing the different types of loans, possible interest rates and monthly mortgage payments so you can decide at a glance what is right for you.
Fully digital process: While loan officers are available by text or phone if you need help, you can apply and submit all of your financial documents online.
Low down payments and homebuyers' programs: You can make as low as 3% down and save on private mortgage insurance with Fannie Mae's HomeReady loan option.
What could be improved
Limited options for low credit: Ally does not offer many mortgage options for borrowers with low credit scores. Notably, the lender does not provide VA, FHA, or USDA loans which usually come with less restrictive eligibility conditions because they are government insured.
Original costs: Ally Mortgage also charges an origination fee, which is an upfront fee that some lenders do not charge. And at $ 995, that's higher than many competitors' fees. You will need to take this into account when you compare mortgage rates to see who has the best overall deal.