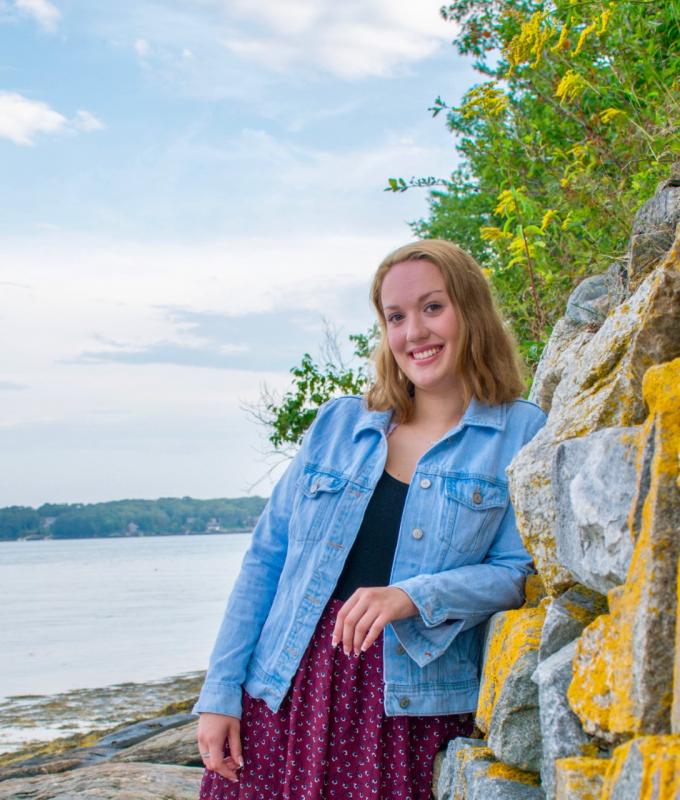 BRHS graduates reflect on their first year of college amid pandemic
It wasn't like that it was supposed to be.
It was the thought in Ally Nein's head as she walked out of her childhood bedroom to tell her mother that she had completed her freshman year in college. Nein had spent just three months at his "dream school," Wheaton College in Massachusetts, before a COVID-19 outbreak in November shut down already limited facilities on campus. When the students had the opportunity to return home, Nein and his roommate, Boothbay Region High School (BRHS) graduate Maddy Faulkingham, decided to complete the year remotely.
Nein and Faulkingham are two of the thousands of freshmen whose high school has abruptly moved away due to the pandemic. "I left on a Friday and never been back, and it was really hard for me because I'm super sentimental," said Nein. "It didn't look like a closure. I didn't feel like I was done.
As the pandemic continued, the students discovered that their university experiences were not what they had envisioned either. Nein and other former BRHS students said it contributed to a similar sense of lack of closure.
"It wasn't really a warm welcome from the faculty, it wasn't really a warm welcome from anywhere. It was just rushed and lazy and people didn't want to do much, "said Ben Rumney. Rumney remained on campus for the two semesters at the University of Maine at Orono, a decision he now regrets.
Rumney explained, he decided to stay on campus his second semester, so he could get one-on-one help from professors and because the college had hinted that tuition would be reduced to reflect reduced facilities and costs. activities. It was too late to leave campus life when he realized that teachers would not be available in person and tuition would not be reduced.
"There were a lot of promises made and a lot of promises failed. It kind of made me lose faith in college, "Rumney said.
The Boothbay Register has solicited UMaine's comments on Rumney's experience.
Rowan Kristan, who attends Maine Maritime Academy, was eager to travel. He hoped to participate in his school's touring boat team to compete with other maritime schools in New England and New York. The event has been canceled.
"When I thought of college, I thought of friends, sports and clubs and literally being in a classroom," Nein said. "And I really didn't have any of that."
The lack of activities also made socialization difficult. Students feared they would get sick or spread the coronavirus. Rumney also said that students at his school who were caught partying were fined or expelled. However, having to limit close contact has helped some students become friends with people in their dorms.
At Syracuse University, Hali Goodwin lived with other engineering majors, which made studying "really easy".
Nonetheless, the mundane daily schedule took its toll on the mental health of the students. "I can easily go my entire semester waking up, going to class, having food, coming back, studying, falling asleep," Rumney said. "Rinse and repeat. It's very sad that this is what it was.
Rumney's first roommate returned home due to the circumstances. Her second roommate almost did.
Nein and Faulkingham also reported increased mental distress during their first semester and improvement upon their return home.
These experiences are part of a national trend; "95% of students experienced negative mental health symptoms due to circumstances related to COVID-19", according to a BestColleges.com survey. Almost half of the participants believe that the effects on mental health also affected their education.
"It was difficult to have constant academic pressure without interrupting social and other events," Goodwin said. "It's been tough on the mental health of many students, especially those of us in engineering with really tough classes."
Rumney recalled that he and his friends wondered if they were "stupid" for not keeping the information in their online lessons. Most BRHS alumni interviewed said they were unprepared for online college courses because when they left remotely most classes were canceled or they worked independently.
However, the students tried to supplement their studies where they could. Faulkingham, who is majoring in biology with a pre-veterinary medicine track, worked at Boothbay Animal Hospital during his second semester. She said the experience helped make up for the lab work she missed being at a distance. Nein, a double major in psychology and early childhood education, accepted a job at the YMCA daycare.
"I learned so much in the few months I worked there and I am very grateful for this experience. I think everything happens for a reason and I kind of took a shitty situation and made it as positive as I could, "Nein said.
Despite the struggles of their freshman year, students are eager to return to a more open campus as COVID-19 restrictions continue to be lifted.
"I really hope that by next semester things will get back to normal, and we hope we don't have to wear masks on campus and that clubs and activities are back up and running," he said. said Goodwin. "I am delighted to get more involved in campus life."