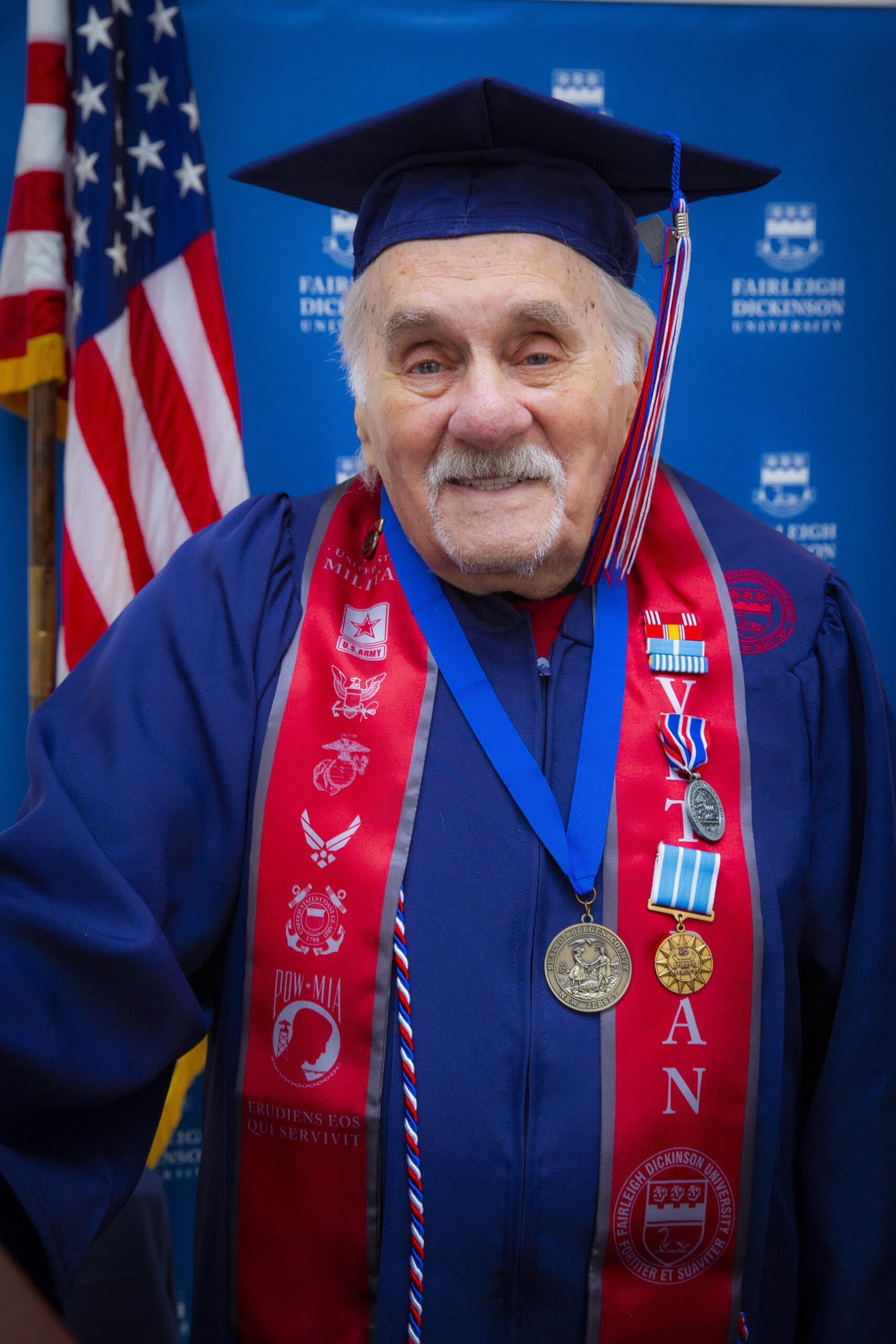 Korean War veteran receives FDU diploma
Seventy-one years after leaving college to enlist in the US Army during the Korean War, Richard Salkind, 90, now has his degree. At a special ceremony in front of Salkind's home in Dumont, NJ, on March 30, FDU President Christopher A. Capuano and University Vice President and Senior Vice President for Academic Affairs Michael Avaltroni awarded Salkind his Bachelor of Arts.
"We are very proud of our historic legacy of supporting veterans and proud to be among the most veteran-friendly universities in New Jersey. And today, we are particularly proud to pay tribute to this extraordinary veteran," said President Capuano.
Along with family and friends, a number of other dignitaries were on hand to honor Salkind, including elected officials and representatives from various military service and veterans organizations.
"I am in awe of this gathering," Salkind said. "I have lived 90 years and I have never had the opportunity to be honored like this. I have had ups and downs, joys and sorrows, and I have overcome everything, and I I just want to say that I love my family, I love my school and I love my country. With all my heart, I thank you all.
Salkind left college mid-semester in 1951. Upon returning to the United States after the war, he married, raised five children, and ran a successful trucking business. But he had unfinished business – getting his college degree. Upon returning from the war, he enrolled at the metropolitan campus of Fairleigh Dickinson University (then named Teaneck-Hackensack) and took evening classes. Unfortunately, his commitments to work and family made it difficult for him to graduate.
Years later, however, he knew he wanted to finish what he started. Just 14 credits short of his bachelor's degree requirements, he recently contacted FDU and was referred to Frank Pantaleo, who counsels students in the Bachelor of Arts program in Individualized Studies.
Provost Avaltroni said, "Frank, who is a Marine Corps veteran and proud FDU alumnus, was able to identify credits that have been approved by the American Council on Education for military training. by Mr. Salkind. In fact, his training as a Morse code intercept operator and technician was determined to be worth 27 credits; more than enough to qualify him for his Bachelor of Arts in Individualized Studies.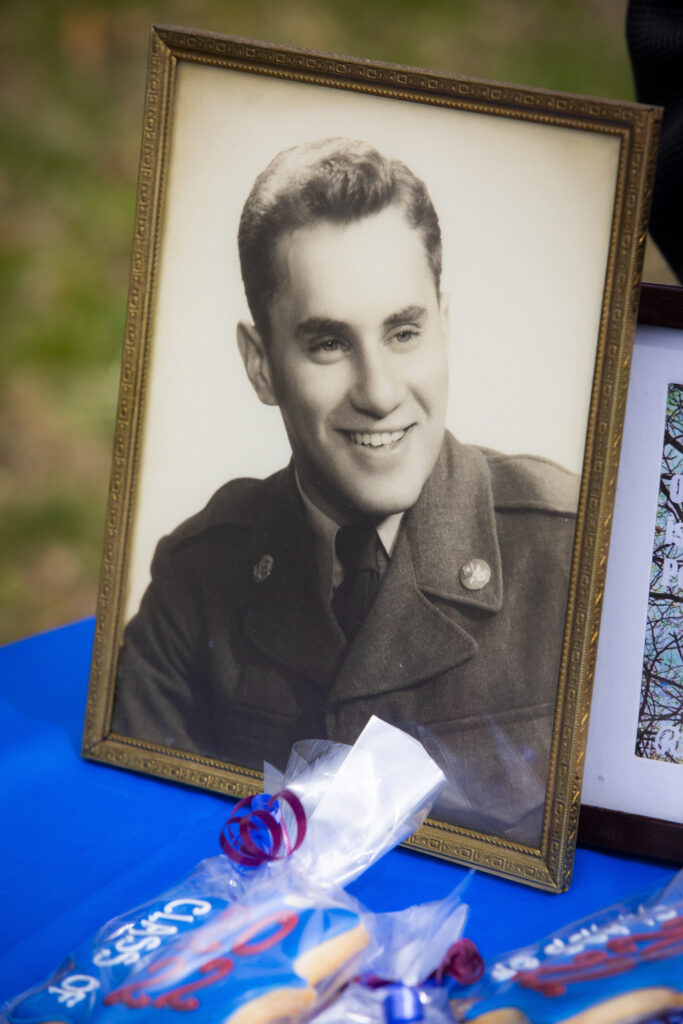 Among the many other honors presented to Salkind was a resolution from State Senator Holly Schepisi, who thanked him for his service and for "teaching the absolute definition of perseverance." You never gave up on your dream.
Shaun Hutchinson, the director of Veterans Services for Bergen County, presented Salkind with several medals, including the Distinguished Service Medal and Korean Service Medal from the New Jersey Department of Veterans Affairs, as well as the Military Service Medal. of Bergen County.
Bergen County Board of Commissioners Chairperson Tracy Zur presented a citation from the board. She thanked Salkind for his service and said, "You inspire me. Not everyone has their own graduation ceremony. She also thanked the University for supporting the country's veterans.
Dumont Mayor Andrew LaBruno proclaimed March 30 as Richard Salkind Day in Dumont. In addition, Carl Singer, a retired US Army colonel and UDF alumnus, presented a plaque on behalf of Jewish Veterans of the United States of America.
Finally, Martha Papson Garcia, director of the FDU Veterans Services Office, who coordinated the special graduation ceremony, presented Salkind with a ghost box from the office and the FDU Student Veterans Association. .
To see more photos from the event, visit our gallery.
Click here for the cover of The record.
Click here to The record Photo gallery.
Click here for WCBS Newsradio 880 coverage.