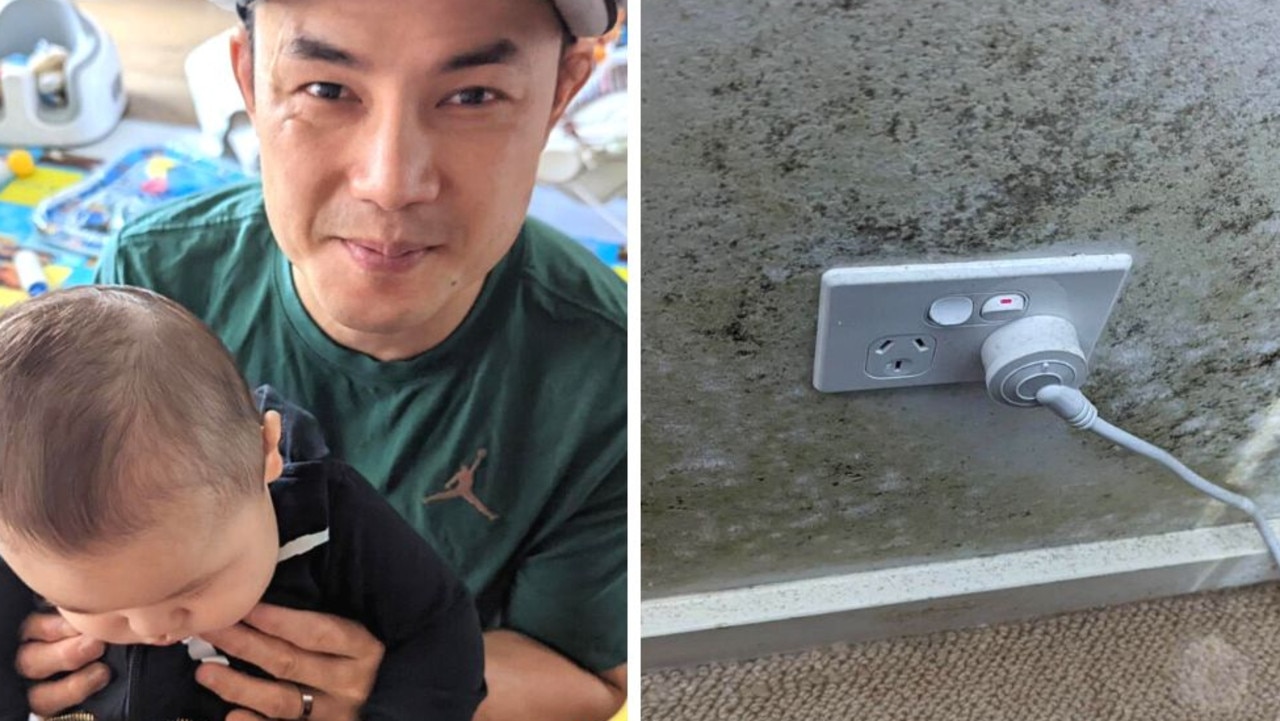 Melbourne rental: Faulty window leads to $1,200 mold nightmare
A Melbourne man has been locked in an exhausting battle after discovering a widespread mold problem at his rental property.
It wasn't until Jason, his wife and son were forced out of their two-bedroom apartment in Melbourne that they realized their mold problem was much bigger than they expected.
Although the problem was enough for the family to terminate their lease early, the father-of-one estimated he had spent over $1,200 on rent.
This is despite the fact that the property was vacated while work was carried out on the property to fix a window caulking issue.
"We had to keep paying rent for something that wasn't our fault. It was a structural problem. It's a construction fault," Jason told news.com.au.
After six months of living in their Doncaster East residence, Jason's wife began noticing mold on the balcony door frames in May this year.
However, they say their property manager advised them to treat the mold with Domestos – a disinfectant that contains bleach.
"We were like OK, but it's a mold problem. We had pictures and asked them if they wanted to send someone," Jason said.
"They were like, 'Use Domestos and if it doesn't work then contact us and we'll send someone.'"
Although the initial treatment with Domestos worked, the mold returned a few weeks later. Their frustration was compounded by the fact that before the lease was signed, the family was told that although the apartment had mold issues and showed signs of water damage, they were told the problem had " everything has been resolved".
Around the same time, the family also began to fall ill. Jason said he, his wife and son had recurring difficulty breathing and an "itchy feeling in their nostrils".
Although the family consulted a doctor, they were unaware that their symptoms could be related to mold growing unexpectedly in their home. Instead, they were diagnosed with allergies and prescribed antihistamines.
"If you woke up at seven in the morning, you would sneeze until noon," he said.
"We just thought maybe it was a cold because it was winter, but over the next month we decided to do our best to move out as soon as possible."
"He covered a quarter of the wall"
In June, the family had made the decision to end their lease and purchased a property instead. However, while moving, they made a horrifying discovery.
"The problem is that the mold we saw at the time was just around the door frames, so we didn't think to remove all of our furniture to check for other issues," he said. he declared.
"The mold behind the headboard was so bad it covered a quarter of the wall.
"When we moved the baby change, everything under it was full of mold, it was damp and there was water. It was really bad.
As Jason was arranging for the final cleaning of the apartment, they were notified by the agency that a builder had identified a problem with the window caulking, which had caused water to leak onto the carpet. They were also told that the mold was caused by condensation due to a lack of ventilation in the room.
Emails seen by news.com.au confirmed correspondence between Jason and the agent.
"The way I read it is that if it's a ventilation problem, it's either a building design problem or we're being blamed for not opening the window," Jason said. .
Despite this, the family was told that they had to continue paying the rent until the apartment was re-let.
"We were like, 'The builder might need to get the window guy out. The window guy then has to come out to fix the clog, and then they have to fix the carpets,'" Jason said. take weeks or even months.
"Then when we came back and gave them the keys, (the agency) had the tenacity to say, 'The mold issues still need to be cleaned up, how about I give you the keys back and you go back and use more Domestos?' "
While news.com.au approached the agent for comment, a spokesperson for the agency declined to comment as a complaint has been lodged with the Victoria Civil and Administrative Court (VCAT).
"We have to respect the process and not prejudge the court's decision," he said.
Changes to mold and rental laws
Their dealings with the real estate agency left Jason and his wife "incredibly upset".
"When we found the mold, we were shocked, disgusted and upset," Jason said.
Under changes to the Tenancy Act in March 2021, problems with mold and damp when caused by the structure of a building are now treated as an urgent repair. This classification means rental providers should address these issues as soon as possible.
If the issue is not resolved urgently, tenants can go through the VCAT, where the claim must be heard within two business days.
Speaking to news.com.au, practicing solicitor and manager of rental support services for tenants Victoria, Georga Wootton said the tenant advocacy group is seeing mold complaints triple in winter. Ms. Wootten estimates that one in 10 inquiries currently relate to mold and damp-related issues.
Although tenants can apply for a rent reduction in the event of mould-related issues, Ms Wootten said landlords "often don't do it voluntarily".
"We advise all of our tenants that because there has been a breach of the Residential Tenancies Act – which is to keep the premises in good condition – the property is effectively not in good condition if there is any mold there," she said.
"So that means the tenant might be entitled to compensation."
However, she admits that this is not an immediate solution.
"There's a bit of time until you can get that compensation," she said.
"It can be disappointing for some tenants because they are in this painful situation of having to live in a moldy house.
Still, Ms Wootten advises tenants to keep paying rent, so they don't risk receiving a vacating notice.
"It can happen if you're more than 14 days behind rent," Ms Wootten said.
"We don't want to see people losing their homes."
'It's painful'
After more than a month of back and forth, the family was informed on Tuesday that the agent had re-let the property. Since leaving the property, Jason estimates the family has paid about $1,200 in rent while the window caulking is being repaired, plus an additional $220 for the ad to be advertised.
Attempts to negotiate an out-of-court resolution also failed, Jason said.
"I had a conversation with her two days ago. I said, 'Can we come to something amicable here? Can we stop paying the rent? »
Jason said the protracted problem has also put a strain on the family's mental health and financial situation.
"It's really tough because with rising interest rates it's hard to keep paying rent for something that we can't even get off our books. It's painful," he said.
Read related topics:
melbourne