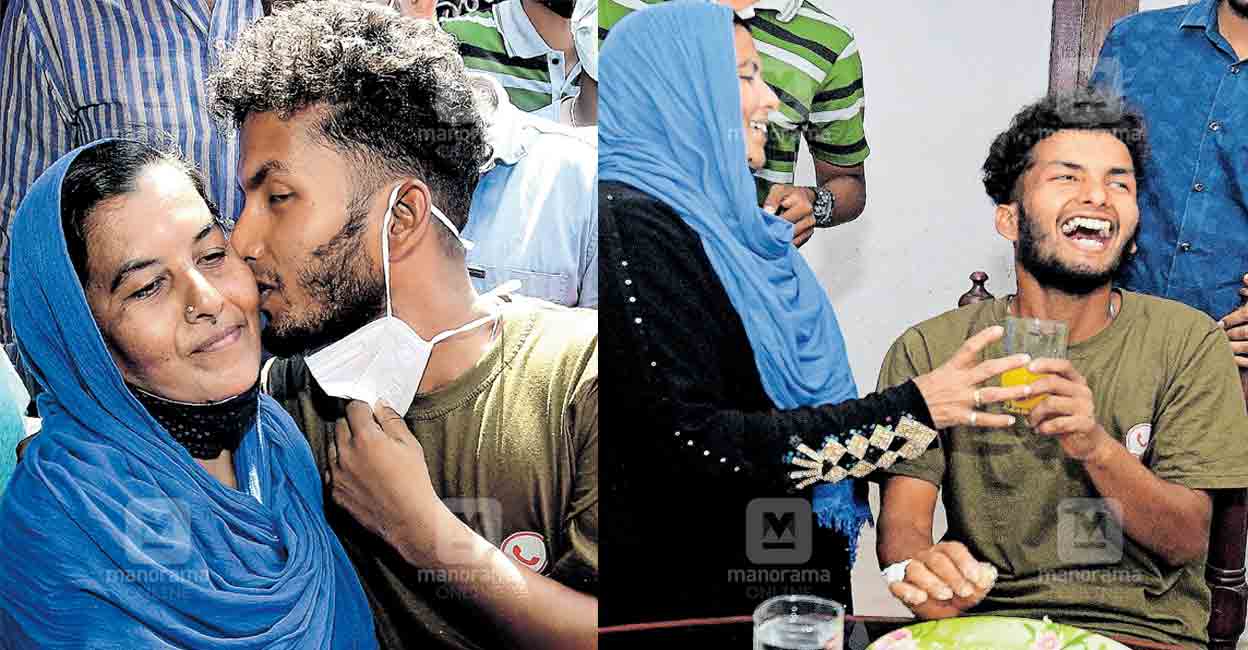 Mental toughness helped me endure the challenge in Kumbachimala: Trekker Babu
Palakkad: Young trekker R Babu said on Friday that mental toughness and courage helped him endure the challenge he faced in Kumbachimala here after his discharge from hospital.
Babu, who was trapped facing a mountain crevasse in Kumbachimala, was rescued by the Indian army in a breathtaking operation on Wednesday.
"I will continue the trek. But next time, I will make sure to take the necessary security measures and get permission from the respective authorities," he said.
Babu was received by his mother Rasheeda and brother Shaji when he returned home after a four-day hiatus. He was advised to take a week off before returning to work.
"No one should attempt such efforts without taking proper precautions. Always carry enough water and food on these missions," he said.
"I couldn't climb because of my leg injury. But I could go down. That's how I got into the slot. I went down lower so the rescue team could easily spot me," he said.
Babu added that he was not worried about dying or not being rescued.
"I was rescued from a place where I was on Tuesday night. I didn't sleep because I was afraid of falling," Babu added.
He said he would have tried to slide to safety if the rescue team couldn't save him.
"I wasn't scared. The slit was like a little cave. When it was too cold and too hot outside, I used to crawl into the gorge and come out whenever I heard someone calling. my name," he told reporters.
When asked if he had realized that his rescue was broadcasting news on the channels, the hiker replied that he was unaware of it, but was sure someone would come the next day. put in safety.
"Cellphone lost charge in the evening. Before that, I managed to click some selfies and send them to my friends to let them know I was stuck there. I also tried to forward the message to fire and rescue personnel," he said. detailed.
Babu said that apart from the harsh climate, the lack of food and water was also a problem as he developed difficulties with the passage of time.
On the failed mission to airlift him from the departing slot, the youngster said it wasn't possible as his rotors would hit the rock.
'To continue the trek'
Stating that he would like to pursue his passion for traveling and hiking, Babu also said that his current priority is to get proper rest and eat well.
"I am ready to climb Mount Everest with proper training," Babu said while adding that he had not encountered any physical difficulties.
He added that he owed his life to the army and hospital authorities.
After being trapped in a crack on a mountain face in Malampuzha area of ​​Palakkad district in Kerala for almost two days, army rescue teams were able to reach Babu, provide him with food and water and then transport him to a safe place on Wednesday morning.
A team of specialist mountaineers from the Madras Regimental Center (MRC) rescued him from the cleft.
The army deployed two teams consisting of trained mountaineers and climbing experts from the Regimental Parachute Center in Bangalore and the Regimental Center Madras in Wellington.
Babu, along with two others, had decided on Monday to climb to the top of Cherad Hill there, but the other two gave up the effort halfway.
However, Babu continued to climb to the top of the hill and upon reaching it slipped and fell and got stuck between rocks on the mountain face.