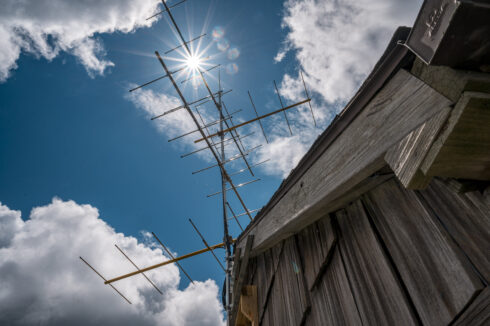 Old tech with a new twist helps wildlife research
Union, West Virginia.. – A remote summit along the West Virginia-Virginia border in Monroe County, West Virginia, with pipes attached to a small building supporting a series of antennas. Aluminum gadgets and their silver limbs are a throwback to the early days of American television. Aerial photographs give the appearance of a typical American house from the 1950s and 1960s.
The technology may be outdated, but its latest development offers enormous opportunities to study the movements of wildlife.
"This is an older wireless telemetry technology, but with a variation of the newer technology," said McFranz, a zoologist with the West Virginia Division of the Natural Resources and Wildlife Diversity Program. .
According to Franz, the antenna picks up UHF frequencies from radio transmitters embedded in wildlife for research purposes. Modern software can distinguish individual transmissions and separate them into a single source.
"It's not a different frequency for each animal, it's a dedicated frequency. Radio beacons have their own impulses. They differ in microseconds, but computers can recognize each difference individually. "He explained.
Therefore, in theory, the software could read a transmitter attached to a woodpecker or a golden eagle in Pittsburgh in a completely different study in the Monongahela National Forest in Pendleton County.
MNR staff recently installed a Hanging Rock Observatory antenna. It is located on Mount Peters in County Monroe. The old fire watchtower has become a dream location for bird watchers who want to spot migrating birds. The site boundary to the top of a similar sized ridge is 40 miles, providing plenty of ground for receiving radio frequencies from a distance. The natural resources industry has just started the game, especially in the application of this technology, but with the leadership of Franz, they want to establish a network of stations throughout the state. The plan is to connect West Virginia with the International Motors Network.
Motus, which means "movement" in Latin, is a series of similar observatories around the world that support national and international studies of wildlife movements and other activities.
"Our goal is to determine the spatial and migratory patterns of the species most in need of protection, which are tracked in the state's wildlife action plan," Franz said.
The agency has created a plan to place towers in the state to use this technology for all types of telemetry research.
"It's the first one, but we're trying to find another strategic location. There is another tower in the Ohio Oliver Islands National Wildlife Sanctuary, and we're looking at other towers in the area. "I go."
Monitoring devices can read signals from tagged fish and other aquatic species in the water, as well as on land, in the case of the Ohio River. The establishment of networks will create many observation and research opportunities for all current and future research.
MNR uses telemetry for a variety of wildlife research. Bears, deer, elk, wild turkeys, muskellunge and many small creatures have already been telemetry.
"The antennas we have installed can track a lot of interesting things, such as patterns of movement, where animals fly and speed," Franz said. "When a perched bird wakes up and decides to fly, we can tell within seconds."