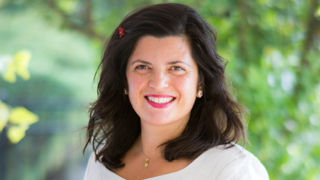 PhD student research focuses on diversity and inclusion in education
Alina Pap presented her research on diversity and inclusion in international business and learning outcomes at a conference in Atlanta last fall.
Alina Pap is a doctoral candidate in the Higher Education Leadership, Management and Policy program at Seton Hall. Pap's research has focused on the internationalization of curriculum and learning outcomes through the lenses of leadership, administrators, and faculty. Pap started his Ed.D. in 2016 and has been an active member of the National Association of Foreign Student Advisors (NAFSA) and the European Association for International Education (EAIE). More recently, she participated in two international events on higher education in the latter part of 2021.
Pap received his undergraduate degree in international studies at the City College of New York before pursuing his master's degree in international education at New York University. She says she chose Seton Hall for her Ed.D. because she found the higher education program to be rigorous with the right balance of academics and training that her career requires.
As part of his professional development work, Pap submitted a proposal for an in-depth session at the Global Diversity and Inclusion conference in Atlanta. His proposal titled Diversity and Inclusion in International Activities and Learning Outcomes was eventually accepted and Pap presented his research at the conference in October 2021.
Pap explains, "I designed the session as a model interactive professional development conference that consisted of two parts. The first part, Pap said, included a PowerPoint presentation to kick off a discussion about global engagement on home campuses. During the presentation, she also raised issues related to the theme of diversity and inclusion in international activities and learning outcomes. The second part of Pap's presentation included responses to participants' questions and a comparative discussion among the audience on work strategies as well as the challenges of implementing diversity and inclusion in their corporate institutions. origin.
Pap is also part of a pilot program called Millennium Scholars, which is run by STAR (Society of Transnational Academic Researchers). She is currently featured on the main 2021 STAR Millennium Scholars page (second row, second from right), along with other entrants from countries on six different continents. The program helps build a lifelong peer support network with scholars from countries such as South Africa, Australia, India, and the United States.
According to Pap, the Millennium Scholars program will "deepen the engagement between myself as an early career scholar and the mid- to senior-level scholars in the network. It also increases the visibility and impact of my work as a emerging international researcher." Other goals of the program include building people-to-people connections that foster future transnational collaborations in research and teaching and discovering connections between cross-border researchers and practitioners.
After completing his Ed.D., Pap hopes to become actively involved in international academic affairs. Although she considers acting as a leader in the field a dream job, she doesn't have a specific role in mind. "I would like to work in a position that oversees the institutionalization of diversity and inclusion in international academic activities for the benefit of all students, faculty and staff, while building cross-border partnerships through research and innovation", concludes Pap.