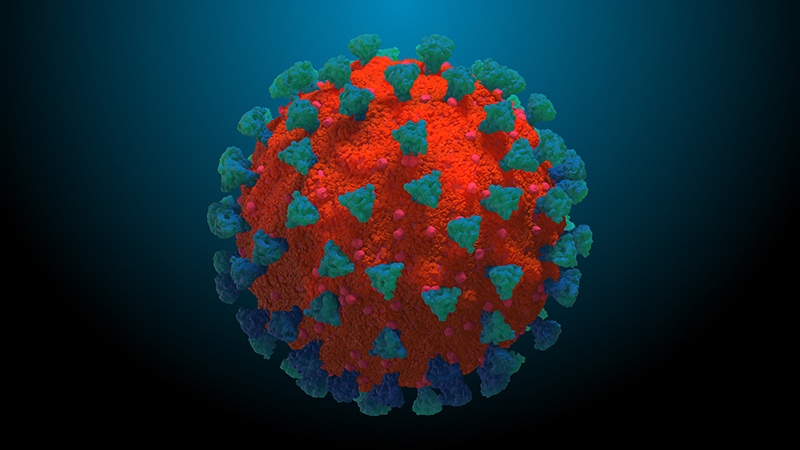 Two factors linked to a higher risk of long COVID in IBD
Editor's Note: Find the latest COVID-19 news and advice in Medscape's Coronavirus Resource Center.
Two characteristics are significantly associated with a higher risk of developing long COVID symptoms in people with inflammatory bowel disease (IBD), according to a large Danish population-based study.
People with Crohn's disease (CD) who experienced acute adverse COVID-19, defined as requiring hospitalization, were nearly three times more likely to report persistent symptoms 12 weeks after acute infection.
"Long-term persistent symptoms after COVID-19 are a common problem, which is likely underestimated, so IBD specialists should be aware of any of these symptoms and actively ask patients if they have these issues" , said lead author Mohamed Attauabi, MD. , PhD, said Medscape Medical News.
Attauabi and colleagues also found that people with ulcerative colitis (UC) who stopped immunosuppressive agents because of COVID-19 were 1.5 times more likely to have long COVID symptoms, a finding that surprised researchers. researchers.
"This has not been demonstrated before and remains to be confirmed," said Attauabi, a researcher in the department of gastroenterology at Herlev Hospital, University of Copenhagen, Denmark.
Attauabi presented the findings as a digital oral presentation at the ECCO'22 Virtual Congress of the European Crohn's Disease and Colitis Organization (ECCO).
A closer look at IBD and COVID-19
Large hospital studies of symptoms consistent with long COVID reveal a high prevalence of fatigue, sleep disturbance, and anxiety at 12 weeks or more after acute infection. However, these were not specific to people with CD or UC, Attauabi said.
"In patients with IBD, the risk of long-term sequelae from COVID-19 remains to be investigated," he said.
Attauabi and colleagues studied 197 people with CD and 319 with UC, all of whom had PCR-confirmed COVID-19. Participants were prospectively enrolled in the Danish population-based IBD-COVID registry from January 28, 2020 to April 1, 2021. At a median of 5.1 months, a subset of 85 people with CD and 137 with of CU have agreed to report any post-COVID symptoms.
Older age, smoking, IBD disease activity, and the presence of comorbidities were not associated with a significantly elevated risk of long COVID.
In a multivariate analysis, hospitalization for COVID-19 in people with CD was significantly associated with long COVID (odds ratio [OR], 2.76; 95% CI, 1.05 – 3.90; P = 0.04).
Additionally, people with UC who stopped taking immunosuppressive agents also had a significantly higher risk (OR, 1.50; 95% CI, 1.07, 10.22; P = .01).
"However, IBD medications such as systemic steroids were not associated with this outcome," Attauabi said.
Fatigue Most Common Long COVID Symptom
Fatigue was the most common long COVID symptom, reported by 37% of CD patients and 36% of UC patients.
Anosmia and ageusia were also common, reported by 29% and 28% of patients with CD, and 27% and 19% of those with UC, respectively.
"In our cohort of patients with UC or CD who developed COVID-19, the long-term health effects of COVID-19 did not appear to differ between patients with UC or CD or between medications. IBDs," Attauabi said.
It's an "excellent study," said session co-chair Torsten Kucharzik, MD, PhD, chief of internal medicine and gastroenterology at Lüneburg Hospital, Germany.
When Kucharzik asked about smoking, Attauabi replied that they had collected information on current and past smoking, but chose not to include the data because it was not statistically significant.
Attauabi reported no relevant financial relationships. Kucharzik said he received grants from Takeda and personal fees from companies including MSD/Essex, AbbVie, Falk Foundation, Biogen, Bristol Myers Squibb, Arena, Celgene, Celltrion, Ferring, Janssen, Galapagos, Olympus, Mundipharma, Takeda, Amgen, Pfizer, Roche and Vifor Pharma.
ECCO Congress 2022. Presented February 17, 2022. DOP Abstract 23.
Damian McNamara is a Miami-based staff reporter. It covers a wide range of medical specialties, including infectious diseases, gastroenterology and critical care. Follow Damien on Twitter: @MedReporter.
Follow Medscape on Facebook, TwitterInstagram and YouTube.