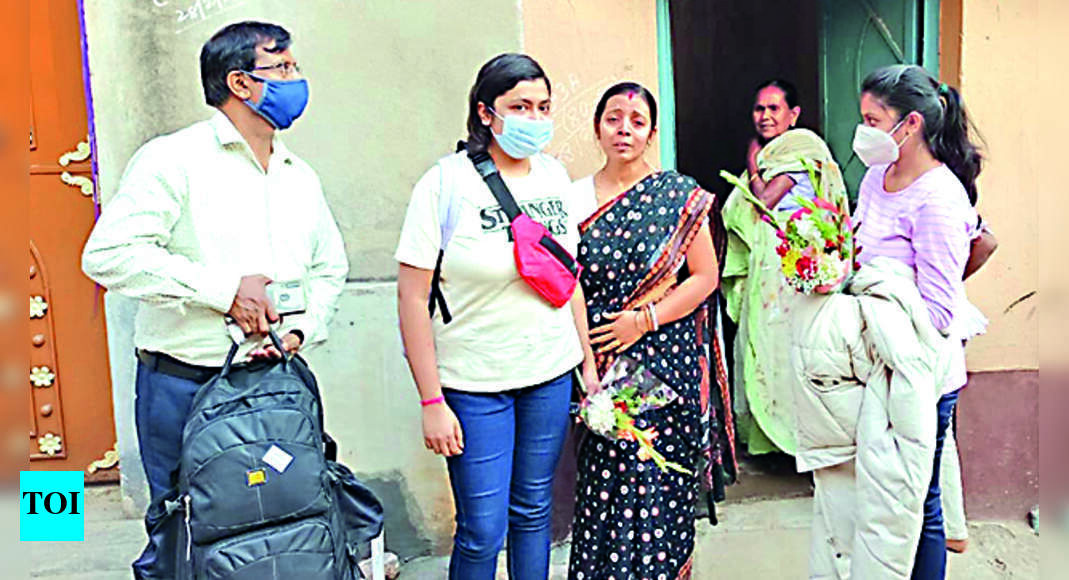 'Warzone nightmares followed me to Durgapur' | Kolkata News
Durgapur/Kolkata: A day after the first group of Bengali students arrived home, other students from the state arrived on Monday. They were received by members of their families and representatives of the State administration.
Parnashree Das, a third year student at Ternopil National Medical University and a resident of Ukhra in West Burdwan, landed at Andal greenfield airport in Durgapur on Monday afternoon and was met by the NCO Durgapur division, Shekhar Kumar Choudhury.
"It's a great feeling to be back with my parents. I can't express the feeling with words. What I have experienced in recent days in Ukraine and on the border is beyond anyone's imagination. I continue to have nightmares of the time spent in the bunker, the sight of missiles landing on the roads, the relentless wail of sirens, that 20km walk through no man's land to reach the border in freezing cold, and those wailing women, children and the elderly at the border," said Das, who returned with only a backpack containing some essential documents, a laptop and a set of clothes. She came to Andal after the evacuation flight dropped her off in Delhi on Sunday.
Rushing off on her decision not to listen to her parents who had been insisting on her coming home for two weeks, Das said: "While a lot of my classmates were leaving, I stayed as things seemed pretty normal until to February 23. Classes were still going on and I didn't want to miss classes. There is a penalty of 130 Ukrainian currency if we miss a class and I also didn't want to add the
financial burden
of going home and back. But then the war started and things got out of control.
Das added that classes have been suspended until March 12, but she wants to return to university among her friends and teachers as soon as the situation improves.
Along with Das, another Ukrainian student and resident of Kolkata – Sarodiya Chatterjee who had reached Delhi, came to Kolkata on a late evening flight.
Six other students from Sikkim – Rinchen Choden Lepcha, Sadhna Tiwari, Seden Ongmu Bhutia, Prerna Kalwar, Yang Lamu Tamang and Dipam Kumar Thakur – were also repatriated by the Sikkim government after reaching Delhi airport from Hungary on Monday after -midday. Another 250 students from Romania also landed in Mumbai.
(With entries from
Roshan Gupta)