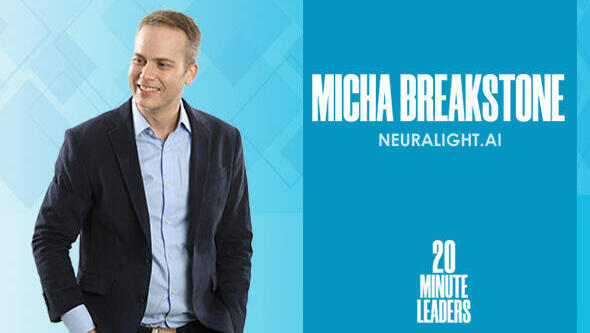 "We want to hire people who make us an integral part of their lives."
When Micha Breakstone and his co-founder built NeuraLight, they knew how important it was to define company values ​​first. They agreed on three core values ​​that they continue to respect and reference when hiring. Breakstone, the CEO, says it's crucial that employees have a passion for the urgent mission of measuring the progression of neurological diseases. He says he wants to hire people who will see the job as part of their life, not a part of it. Breakstone says his grandfather's battle with Alzheimer's disease and a process of establishing key performance indicators for his own life led him to pursue a career in neurology, where diseases are not well understood and where it is difficult to measure their progress. He thinks neurology will be important in the next decade, and he hopes NeuraLight's work will help him achieve his goal of making the world a little better.
I don't have the full answer, but as humans we tend to deal with the urgent, not the important. Alzheimer's disease, MS and Parkinson's disease do not kill quickly, if at all. They take 20 years to kill you, cripple you, wreak havoc on your family. The pain is more moderate; It's finish. Neurology, it's really important to note, is the world's biggest cause of disability. The prevalence of the disease has doubled in the last 10 years due to the aging of the population, etc. The expenses are crazy. For Alzheimer's disease alone, direct spending in the United States is, I think, $256 billion. But they are slow and the pain is more moderate. Also, again, we don't yet understand the pathophysiologies of most of these diseases. Doctors always tend to understand, like good scientists, what they are really dealing with. It's very difficult to try to solve something you don't understand. The brain is a black box. All of that effort has gone into oncology because it kills faster and it also gets things figured out. Neurology is 50, 60, 70 years behind oncology. There is no precision medicine for neurology. There are very few disease-modifying treatments. There is no cure available. With the aging of the population, there is more openness to doing this. I believe the next decade will be the decade of neurology.
In the feeling, environment, atmosphere and day-to-day culture, is there a difference when working on a product like Chorus compared to NeuraLight?

First of all, it's much easier to hire. In addition, before starting the path, we defined three values ​​for the company in order to bring together the cultural anchors and the DNA. We spent days distilling this into three values. We actually want these three values ​​to be used in real life. With every interview and application decision, we come back to our values. The first is that we are on an urgent mission. We are looking for people who are dedicated and passionate about truly changing the world for the better. Eddie and I are still interviewing every person. I share the values ​​and I say, "That means we don't like the term 'work-life balance.' I want to see their reaction. We are looking for people who think this job will be a big part of their life. We want you to feel that this work is an important and meaningful part of your life. Work-life harmony is good. I want to see if people are afraid of this (statement) or not. Not because we work crazy hours, although sometimes we do. For the record, we discovered a few weeks ago that a team of our engineers were working all weekend. Eddie and I were horrified because we hadn't asked for this. But they said: "We really wanted to start testing early next week. And that was too important for us." We gave them, a few weeks later, a happy day outside. What was really important to us was having people who made us a part of their lives. The third value is that we enjoy the ride. The path is just as important as the goal. The second value is psychological safety. Google found that the most successful teams are those where people feel vulnerable enough to know they'll never be fired, they'll always be empowered, and so on. This is therefore a second essential value for us. I think those values ​​actually reflect who we are as a company and how we make decisions. Recently, Gil Shklarski, the former CTO of Flatiron, joined as a scientific co-founder. I visited him in New York with my life partner and our baby girl about six months ago, and what impressed me the most wasn't his IQ or his understanding of space, but the fact that all he cared about was making sure my life partner and my daughter were taken care of. Going back to your question, is there a difference? Yes. We are extremely intentional about our culture. We seek to hire and bring in people who care deeply, are goal driven, have the means to be vulnerable, would never be negative or dismissive in any way, and also enjoy the ride .

Michael Matias, Forbes 30 Under 30, is the author of Age is Only an Int: Lessons I Learned as a Young Entrepreneur. He studies artificial intelligence at Stanford University, is a venture capital partner at J-Ventures and was an engineer at Hippo Insurance. Matias was previously an officer in Unit 8200. 20MinuteLeaders is a series of tech entrepreneurship interviews featuring one-on-one interviews with fascinating founders, innovators and thought leaders sharing their journeys and experiences.
Contributing Editors: Michael Matias, Megan Ryan