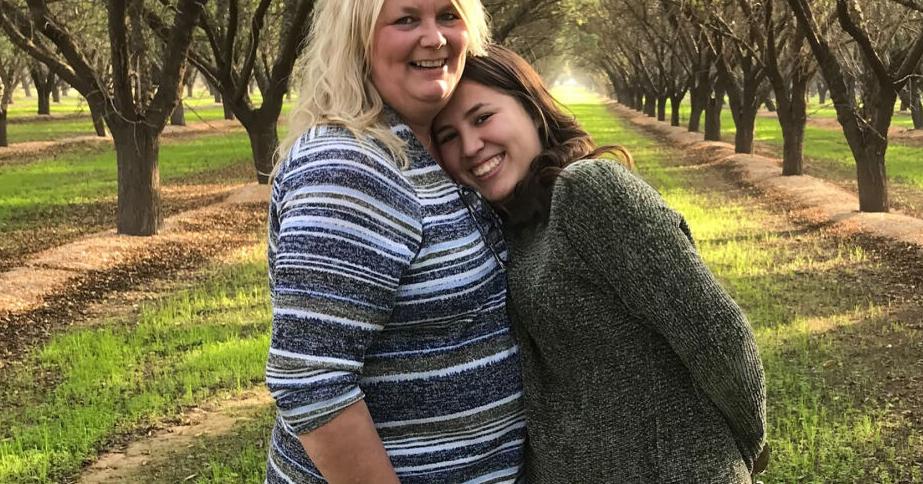 'You and me against the world': CSUB graduate loses mother during pandemic, but uses memory to continue | New
When Nicole Escalante graduates from Cal State Bakersfield on December 16 to begin a career in teaching, she will wear her mother's memory in her heart and on her graduation cap, decorated with flowers in her favorite color. mother (purple), a photo of both hands holding hands, and a line from a Helen Reddy song: "You and me against the world."
"It was my mom's song with her mom, and now it's our song too."
As millions of people across the country retreated to their homes in March 2020 at the start of the COVID-19 pandemic, Escalante and her family were reeling from unimaginable grief: the unexpected death of Escalante's mother , Sherry, at the age of 52.
"The world stopped on a Thursday and my mother went to the hospital that Monday."
Ms Escalante's condition was unrelated to COVID-19, but it was equally mystifying and sudden, her daughter said.
"They said it was a virus in her heart that she probably had for a few months," Escalante said. "We were just in shock."
Despite the tragedy and in honor of her mother, Escalante refused to be sidetracked from her goal of graduating early from CSUB. With the support of her teachers, she took a few weeks off before joining her classmates in the new virtual world of teaching.
"It was a blessing in disguise that the world has closed," said Escalante, noting that her brothers were able to return home to Bakersfield to spend time with her and their father, Tim. "We all had this opportunity to be together here and not worry about missing school or work."
When her family reunites again at Mechanics Bank Arena to cheer on Escalante as she accepts her liberal studies degree, they will also celebrate the unwavering spirit of a young woman who has endured so much to get through these milestones: a pandemic, the loss of her mother and two of her grandparents in the past 18 months.
"My mother lost her father at 8, her brother at 26 and her mother in 2006. She lost everyone. Everything we've been through, my mom has been through worse. But you would never have guessed it if you had met her. She was the funniest and happiest person. I want to be someone who helps people get through the dark.
"Because that's what my mom did. "
Escalante shared her story at a recent event at CSUB to celebrate Fall 2021 seniors who are graduating in less than four years.
"When Nicole started talking about the loss of her mother and her dedication to her early graduation in honor of this remarkable woman, the audience was not dry-eyed," said the president of CSUB , Lynnette Zelezny. "At CSUB, we have a way of describing students like Nicole: resilient. "
"I HAVE ALWAYS BEEN THE PROFESSOR'S PET"
As far back as she can remember, Escalante has always wanted to be a teacher.
"When I was little I was obsessed with being the teacher when we played, and I hate to admit it, but I've always been the teacher's pet. But during my first year, I had a teacher that I really didn't like, and it touched me so much. I've always been a good student and having a teacher that I couldn't work with made me realize that I never wanted to be that teacher.
Over the past several months, Escalante has had the opportunity to show a class of second-graders at Norris Elementary – and herself – precisely the kind of teacher she is. She said she learned as much as the 7-year-olds in her class.
"I really like this age," she said. "They are still so sweet. They admire you very much.
Lisa Smith, a CSUB alumnus and elementary school teacher for over 30 years, has the second grade class next to Escalante's.
"Nicole is almost like a little old soul," Smith said. "It's like she's been there with us before. She just jumps in.
CSUB alumnus Melissa Bright, who has taught for 16 years, is Escalante's classroom mentor. She noted that Escalante is teaching her students at an extraordinary time in education, as even seasoned teachers struggle to acclimate students to in-person teaching after more than a year of virtual learning.
"One negative point is that Nicole won't be able to experience things that we would do in a normal year, like having parents here, helping out and doing a number of activities that have been suspended.
"But the pro is if you can get in and you can handle it, you'll be fine. Because it will be easier when we can get back to normal.
Smith echoed Bright's assessment of the challenges facing teachers and students today.
"When you take seven years of life and erase a year or two, what is it? A quarter of their life? You recycle them, reassure them that they can sit down, they can learn. But they're not really second graders. They are not second graders in confidence or nature. They are in need. They are emotional. I think they got away with murder when they were taught online. "
'IF I HAVE A GOAL, I AM VERY GOOD FOR PUSHING'
After the start, Escalante will have another semester of teaching students before obtaining her Multidisciplinary Teaching Diploma, which she will complete earlier than expected, just like she obtained her bachelor's degree. Escalante credits a pilot program she joined when she enrolled at CSUB.
"Instead of choosing each course, they gave you three options and you chose the time that you liked the most. I chose the one that allowed me to graduate earlier, "said Escalante, noting that she takes on more than 15 units each semester.
"If I have a goal, I'm very good at pushing myself towards it. I knew if I took breaks or let myself go, I would get discouraged. It was doable for me. And if it's doable for me, it's doable for a lot of people.
Vernon Harper, Rector and Vice President of Academic Affairs, congratulated Escalante on his ambitious workload, noting that a top priority of the CSU system is to encourage students to graduate in four years, because the more it takes to the time to graduate, the greater the risk that the student will become discouraged and drop out of school.
"The 2025 Graduation Initiative is CSU's visionary action plan to change the trajectory of higher education and increase graduation rates," said Harper. "We dedicate every resource, every program and every phrase of support to student success so that students can navigate their undergraduate studies in four years. This is unprecedented in higher education, and we are seeing tremendous results. "
This support enveloped Escalante in the days and weeks following the death of her mother. She thanks Academic Advisor Dina Hallmark for stepping in to alert Escalante faculty to the tragedy and the willingness of faculty and staff to work with her on homework and due dates.
Escalante also received support from her longtime employer Luigi's Restaurant & Delicatessen and her boyfriend Andrew.
But it was the love of her close-knit family that got her through. Escalante lives alone with her father in the house he built for his wife when their little girl was 3 years old. It was his parents' "dream house", said Escalante, and his mother was the heart of that house.
"I know I'm an adult, but my mom always reminded me to do my laundry, make my dinners, and write myself notes. And my parents had been together for 33 years, so my dad wasn't sure how to live on his own either. "
But Escalante said their deep Catholic faith has been a comfort, as well as the newest addition to the family: her nephew Harrison, her parents' first grandchild.
As the family moves forward in what Escalante calls their 'new normal', her father, brothers Timmy and Ryan, and sister-in-law Kristyn are delighted to gather around the family's baby and pay homage to the matriarch. Escalante.
"My brothers are coming back to see my graduation," Escalante said.
"And then the next day, they offer me a trip to Disneyland. I love my family!"
Jennifer Self is the public information officer for Cal State Bakersfield.